Holidays in America are nothing without their respective desserts. But not many people know that desserts in America have lived through quite an interesting history. From gingerbread cookies to fried snickers bars, the evolution of America's sugar tooth has been quite the tasty rollercoaster. And this Thanksgiving, Krispy Kreme is bringing it all home to the donut house.
Of course, everyone knows about Thanksgiving pumpkin pie – the sweet outcome of one of the first famously peaceful interactions between settlers and Native Americans. But what about pie itself?
First of all, it's older than the Thanksgiving and even the land of the free. Baked, stuffed crusts have been popular in Britain for as long as anyone can remember. But there is one big difference between British and American pie…
British pie is savory. American pie is very, very sweet! Meats, vegetables, and the like are usually stuffed into the British version, whereas it's almost exclusively a dessert dish in the U.S. From apple and blueberry to banana or chocolate cream, there are simply too many delicious flavors to choose from. But a little pie can be a lot of work to get your hands on, let alone make yourself!
That's why this year, Krispy Kreme is bringing your favorite Thanksgiving pies to their donuts – giving what many of us fun-loving Americans would call the best of both worlds. This whole month, their collection features three new flavors…
Dutch Apple
A doughnut injected with apple filling, dipped in caramel icing, and topped with streusel and more icing.
Chocolate Kreme
A doughnut dipped in chocolate icing, topped with a dollop of cream and mini chocolate chips, and filled with chocolate cream.
Cherry
A cherry-filled doughnut topped with crust crumbles and decorated with an icing lattice.
Get them before they're gone on November 28th!
The Most Beautiful Royal Gowns, Ranked
The British Royal Family must abide by a list of centuries-old rules and protocols, and that extends to their fashion choices. That's right — the Royals have a dress code. Take a look at our ranking of some of the most beautiful royal gowns.
Princess Diana in Catherine Walker
When visiting Hong Kong in 1989, Princess Diana wore this white silk, pearl, and sequin gown by Catherine Walker. Because of the matching bolero (ah, the '80s), the press at the time dubbed the gown "the Elvis dress." Whilst this look isn't everyone's taste, we reckon it's a daring look by our favorite Royal rebel.
In 2012, designer Catherine Walker recalled, "She shone in the dress and the dress shone around her in a shimmering column of glistening pearls."
Princess Anne in Floral Ruffles
Here we have Princess Anne — the Queen's only daughter — in a very 1970s ruffled floral dress, paired with white evening gloves. The Princess was attending an event in London's Dorchester Hotel, and looks almost bohemian, except for her signature chignon.
Princess Anne was an successful equestrian in her youth, and won two silver and one gold medal at the European Eventing Championships. Impressively, Anne was the first member of the British royal family to compete in the Olympic games.
Princess Diana in Hachi
This stunning, one-shoulder, white silk, silver beaded dress was custom-made for Princess Diana by Japanese designer Hachi. In this image, the Princess is attending the National Gallery in Washington D.C. in 1985.
The dress was one of the first one-shoulder gowns that Diana wore, and the shape went on to become one of her staples. This dress was part of an exhibition of Diana's clothes, and was eventually sold at an auction for $60,000.
Princess Diana in Catherine Walker
Here we have another wild 1980s creation — this time paired with a large, sparkling tiara. This is Princess Diana in 1986 attending a royal wedding at the Crown Prince Palace in Saudi Arabia. This Catherine Walker gown was made from satin, and featured 1980s style puffy shoulders and long sleeves.
Royal women are only allowed to wear tiaras when they're married, and only for formal occasions in the evening. Diana had her own family tiara, and had access to the Royal family's jewels.
Princess Diana in Bruce Oldfield
Princess Diana was a true fashion risktaker. Princes William and Harry's mother was always stepping out in an exciting new look, like this gold lamé evening gown by Bruce Oldfield. Fittingly, the Princess wore this outfit for the 1985 premiere of the latest James Bond movie, A View to Kill.
At this time, Diana was only 24 years old, and clearly enjoying the fashions of the 1980s. Shoulder pads? Check. Pleats? Check. Gold lamé? Check. And of course, with an '80s hairdo to match.
Princess Margaret in Pink
Here we have another all-star vintage photograph, but this time with the Queen's younger sister, Princess Margaret. Here we see Margaret in the White House, dressed in pink with a matching jacket, clutching her evening gloves. She is joined by her husband, Antony Armstrong-Jones, President Lyndon Johnson, and his wife, Lady Bird Johnson.
Royal etiquette tells us that royal women don't usually wear sleeveless dresses, as they must remain modest. However, they're allowed to wear all the jewels they want!
Duchess Meghan in Safiyaa
Meghan Markle, the Duchess of Sussex, is a controversial member of the British Royal Family. The American actress ultimately chose to leave the UK because of massive pressure and scrutiny. However, Markle is just like her mother-in-law, and pushes the royal fashion boundaries.
Here, the Duchess wears a Safiyaa gown while on a royal tour to Fiji. When visiting other nations, British royals usually pay tribute to their host country through their fashion. This vibrant blue dress pays homage to Fiji's flag.
Princess Margaret in White
Princess Margaret had a tumultuous love life. She wanted to marry Peter Townsend, a man 15 years her senior that had a high level position in the royal household. Unfortunately, both the Church and the State opposed the union so she went on to marry Anthony Armstrong-Jones in 1960.
In this picture, taken in 1974, Margaret attends the ballet in New York City with her husband. For the occasion, the Princess wore a chic white embroidered dress with a cape.
Meghan Markle in Emilia Wickstead
Prince Harry and Meghan Markle stepped out for their final royal engagement in September 2020. The couple attended a multi-faith service at Westminster Abbey alongside the Queen and other senior members of the royal family. Meghan looked stunning in this green, bespoke Emilia Wickstead gown.
Female royals are expected to wear hats, particularly for formal occasions like attending church. Meghan's headpiece is the William Chambers Veil Explosion Teardrop Hat, and her purse is the Gabriela Hearst Demi Emerald Green Satin Tote.
Princess Diana in Catherine Walker
Princess Diana had an impressive stature that made her look striking in almost every outfit. Here she is in 1993, wearing an emerald green Catherine Walker dress while attending a state banquet at the Dorchester Hotel. As you might expect, royals are required to dress modestly, with not too much skin on display.
Princess Diana was famous for holding her clutch to her chest when getting out of cars, so paparazzi couldn't get any unflattering or inappropriate shots. Iconic!
Meghan Markle in Roland Mouret
Here we have a pregnant Meghan Markle in a stunning navy sequin Roland Mouret Dress. The Duchess of Sussex was attending a Cirque du Soleil performance, and wore the gown with a chic bun and dewy makeup. Markle wore Stuart Weitzman heels with this look, and accessorized with a chic Givenchy clutch.
Royal expert Myka Meier points out that female royals hold their purses in their left hand. This means that their right hand is free to shake hands and wave to the public.
Princess Diana in Catherine Walker
Princess Diana had a close relationship with designer Catherine Walker, who made the Royal over 1,000 looks in total. In this picture, Diana attends a ballet performance in London while wearing a pink and white sheath dress. The outfit is simple but elegant, with stylish details like cufflinks and a pink clutch.
Whilst many female royals wear gloves when they're out and about, Diana famously disliked this, and wanted to touch people skin to skin. This made her beloved by the public, and known as "The People's Princess."
Kate Middleton in Emilia Wickstead
Here we have Duchess Catherine wearing a yellow coat dress from New Zealand designer Emilia Wickstead. In fact, Emilia Wickstead has a dress called "the Kate" that Middleton owns in at least three colors. Well, you would too, wouldn't you?
In this image, Will and Kate were arriving in Bhutan for the second leg of their royal tour in 2016. Kate wore this outfit with nude L.K. Bennet courts, the L.K. Bennet Natalie clutch, and Brora's Gold Charm earrings.
Princess Anne in Polka Dots
Princess Anne is played by Erin Doherty on The Crown, and is becoming a more popular member of the royal family thanks to the performance. In this incredible vintage photograph from 1973, the Princess poses in a pink polka-dot gown on the grand staircase at Buckingham Palace.
The Princess Royal has had a colorful life, including an attempted kidnapping in 1974, which she met with polite defiance. You can learn more about her in the 2018 documentary Queen of the World.
Queen Elizabeth in Norman Hartnell
Let's go all the way back to 1953 and celebrate Queen Elizabeth's fabulous coronation dress. This elaborate gown was designed by Norman Hartnell, a British fashion designer known for his work with the Royal Family. The dress was made from white duchess satin and silk, and was covered in thousands of beads and pearls.
Additionally, the gown was embroidered with flowers to represent the commonwealth nations. Like many other female royals, the Queen does re-wear her clothes, and wore this dress several times after her coronation.
Princess Anne in Floral Print
Fans of The Crown might have spotted Erin Doherty wearing something pretty similar to this 1970s floral dress in the series. The Princess Royal wore this high neck, balloon sleeve, floral dress in 1973 to a film premiere in London, which she attended with her husband.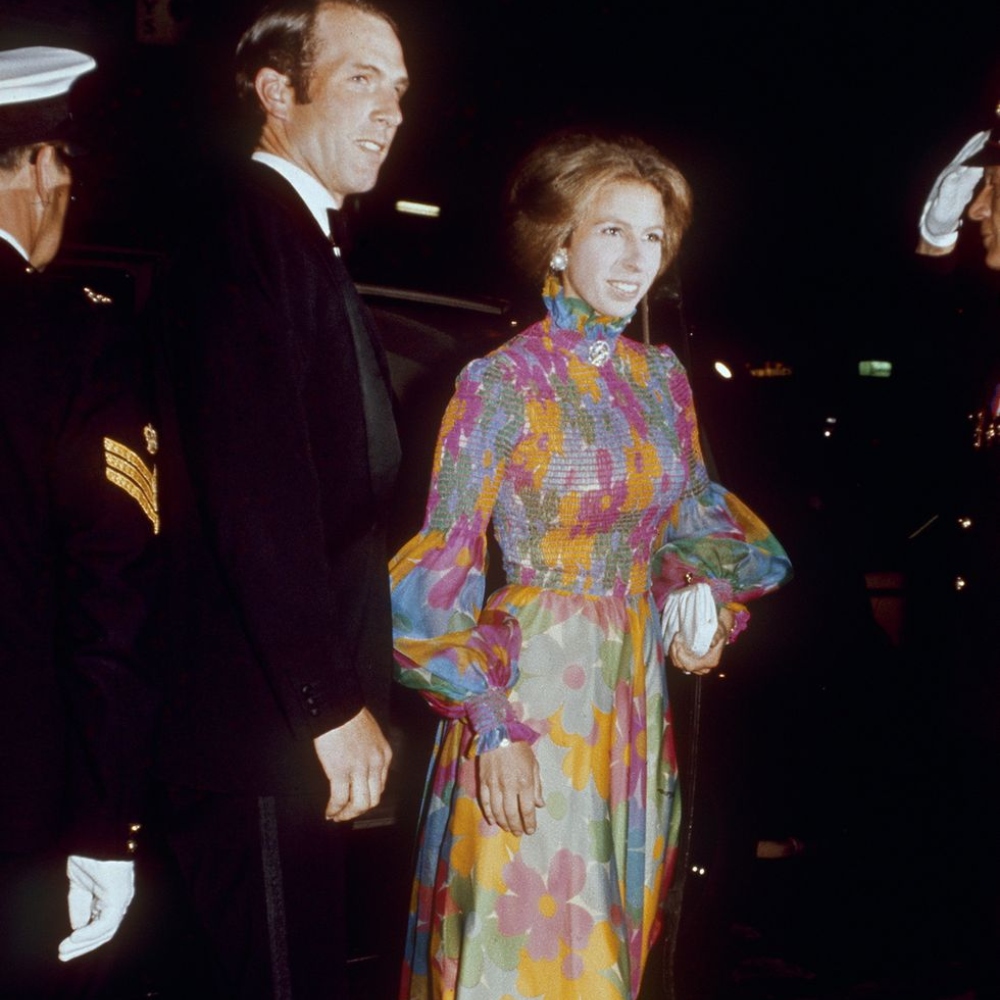 Doherty has commented that to get Anne's signature hairdo, it can take as long as two hours on set. The Princess herself remarked in an interview that it only takes her 10 or 15 minutes.
Duchess Kate in Jenny Packham
While on a royal tour of India in 2016, Duchess Catherine of Cambridge wore this royal blue dress by Jenny Packham. Middleton is praised for supporting up-and-coming British designers, and her every fashion move is charted across a host of fashion blogs.
This Jenny Packham gown was hand beaded in India, paying tribute to the host country. The gorgeous dress came with a matching cape, and a custom bag in the same color and fabric.
Princess Margaret in Blue
As previously established, Princess Margaret was historically famous for turning up to all sorts of events in the most dazzling, flamboyant gowns. And in 1965, this was no different. During a visit to America, the sister of Queen Elizabeth attended a private event at L.A.'s Hollywood Palladium.
She arrived with Lord Snowdon and showed off this stunning blue dress and coat to the paparazzi. With a beautiful tiara to finish off the look, cameras were flashing all night long.
The Queen Mother in White Chiffon
It's not just Queen Elizabeth II who has been able to dazzle red carpets and attend many events over the years in the most iconic of gowns.
Her mother, Queen Elizabeth the Queen Mother was renowned for often threatening to upstage her daughter with her various gowns, crowns and sheer grace. In 1980, the Queen Mother showed up to her own 80th birthday celebration in a white chiffon evening gown, accompanied by a tiara and necklace.
Princess Anne in White
They don't call it the Royal Opera House for no reason whatsoever. This stunning venue often hosts the very best that the British royal family has to offer and will present some of the most beautiful stories ever told in the history of opera.
In 1980, Princess Anne attended an event at the London venue, wearing this gorgeous white dress that had an embroidered overlay. Needless to say, guests were struggling to concentrate on the production as all eyes were on Anne.
Kate Middleton in Alexander McQueen
Duchess Catherine is a huge fan of British fashion house Alexander McQueen, who made this prom style formal gown. Kate wore this blue taffeta dress to a state banquet at Buckingham Palace, paired with a stunning tiara.
Kate was slammed for this dress in the press, but we admire her daring fashion. The dress was accessorized with pearl earrings, a pearl necklace that belonged to the Queen Mother, the Cambridge Lovers' Knot tiara, and a royal family order of the Queen.
Princess Diana in Catherine Walker
As you can already see, Princess Diana has an overwhelming number of iconic royal gowns on this list already. The following is another fine example but stands out because it is clearly a lot louder in color.
In 1988, the late ex-wife of Prince Charles wore this audacious Catherine Walker evening gown, with a black and red pattern, and only one shoulder. Diana turned up to a dinner in this dress, which was hosted by the British Ambassador while she was visiting Paris.
Queen Elizabeth in White
While there are plenty of figures in the British royal family who are famous for their stunning gowns and how they dress at any given event, nobody does it quite like the Queen herself.
There is something iconic about Elizabeth II, whether it be her crowns, her gowns, or the traditional wave she gives to her people. This portrait was taken in 1987 on the Queen's 40th wedding anniversary to Prince Philip. She wore this white dress with a dot pattern.
Princess Margaret in Icy-Blue
Even later on in life, Princess Margaret never failed to impress paparazzi and fellow guests alike with her dazzling gowns of a variety of colors and styles.
In 1990, things were no different when the sister of the Queen attended the 90th birthday of her mother, Queen Elizabeth the Queen Mother, at the London Palladium. Margaret wore an ice-blue dress, which was accompanied by blue earrings and a necklace of the same color.
Camilla in Black and White
While she might have a complicated relationship with the royal family and her history is full of twists and turns, Camilla, Duchess of Cornwall, always turns up to events looking like a true royal figure.
This was no different in 2013 when she took the short trip to Amsterdam to attend a dinner hosted by Queen Beatrix of the Netherlands with husband Prince Charles. Camilla finished off the dress in pure, classy form, with a tiara.
Duchess Catherine in Alexander McQueen
Another royal figure who has worn plenty of this lists' most stunning gowns is Kate Middleton. Ever since tying the knot with Prince William, and even before, the Duchess of Cambridge has made a concerted effort to stand out from the rest of the family at whichever event she is attending.
This also applied in 2018, when Kate went on a royal tour of Sweden and Norway with William. At this formal state dinner, Kate wore a beautiful blush pink gown designed by Alexander McQueen.
Princess Diana in Bruce Oldfield
Another red dress that Princess Diana wasn't afraid to show off was at the following event in 1989. She turned up to a banquet which was hosted at London's Claridges, wearing this red gown which sparkled from head to toe. She can be seen wearing the classic Spencer tiara as she greets another guest.
It was Bruce Oldfield who designed the stunning dress and as you can see, Diana was extremely confident in what she was wearing, as she always was.
Meghan Markle in Stella McCartney
Another gown that Meghan Markle dazzled paparazzi with came in 2018 when she got changed midway through her wedding day to attend the reception with her new husband Prince Harry.
Meghan wanted to feel a bit more comfortable for the partying and so she changed into this bespoke white gown, which was designed by Stella McCartney. The high neckline definitely made the bride stand out from the crowd and empowered her to dance the night away with Harry.
Princess Diana in Versace
While Princess Diana experimented with short dresses for a period, she remained a fan of a full length evening gown. In this picture, taken in 1996, Diana was attending a gala dinner in Chicago. She wore a bright purple Gianni Versace column dress, accessorized with sapphire jewelry and a pearl choker. Her shoes and clutch were the same shade of purple.
After her marriage to Prince Charles ended, Diana went from Her Royal Highness to Diana, Princess of Wales.
Meghan Markle in Preen
Here we have Meghan Markle in another fashion forward ensemble, this time while meeting with young leaders from the Queen's Commonwealth Trust. This unusual rust-colored, asymmetric, pleated dress is the Glenda, designed by Preen by Thornton Bregazzi. This luxury online British fashion brand is also worn by Kate Middleton and Michelle Obama. We knew that Meghan kept good fashion company!
The Duchess of Sussex re-wears her clothing and jewelry, and is even doing so here with the Edge of Ember Wave stud earrings.
Duchess Catherine in Alexander McQueen
In 2011, Duchess Catherine of Cambridge stepped out in this pale purple, flowy Alexander McQueen gown. Middleton was attending the BAFTA Brits to Watch event in LA while on a royal visit to the USA and Canada.
Note that Kate Middleton has neutral nails in this image, as female royals are expected to only wear blush, nude, or clear polish on their fingernails. With this Grecian look, Kate wore the Jimmy Choo Ubai clutch and Jimmy Choo Vamp Glitter sandals.
Princess Margaret in Christian Dior
Isn't this picture stunning? Here we have Princess Margaret all the way back in 1951, posing for a birthday portrait taken by British photographer Cecil Beaton. This gorgeous dress was one-shouldered, cream, embellished in gold, and made by none other than Christian Dior. Margaret has accessorized the gown with a jeweled necklace and earrings.
The Princess is played by Vanessa Kirby in seasons one and two of The Crown, and then by Helena Bonham Carter in the third season.
Princess Diana in Catherine Walker
We know that Princess Diana loved Catherine Walker designs, and in this photograph, she's wearing another one. The Princess of Wales wore this pale blue number to the Cannes Film Festival, alongside her husband, Prince Charles.
Diana was initially quite shy as a member of the Royal Family, but became a beloved public figure because of her kindness and charm. This delicate chiffon gown really made Diana look like a sweetheart, and its romantic pleats are fit for a princess.
Queen Elizabeth in Seafoam Green
As a member of the British Royal Family, Queen Elizabeth can't risk any fashion snafus. For this reason, the Royal has a nifty trick to avoid any occasion where her skirt or dress might embarrassingly blow up. Pennyweights — an old type of British weight — are sewn into the hemlines of the Queen's clothes, so no pesky breezes can ruin her ensemble.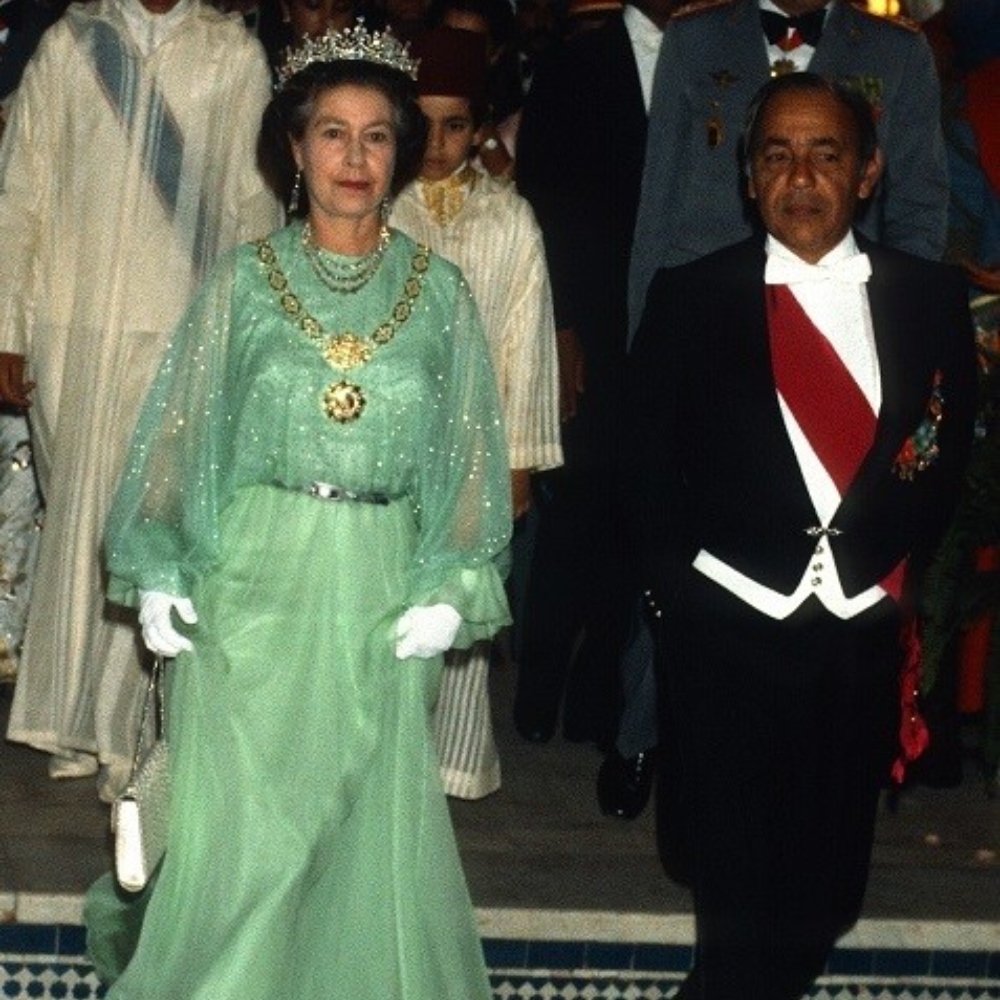 The Queen wore this gorgeous dress to a royal banquet in Morocco. We love the long balloon sleeves, and stylish seafoam color.
Kate Middleton in Jenny Packham
This picture was taken when Kate and Will attended the Tusk Trust Awards at the Royal Society in London in 2013. It was actually the couple's first night out following the birth of their son, George. This stunning, pale gold, sequined gown was custom-made for Kate and featured a bateau neckline, a brooch-accented empire waist, and a keyhole at the back.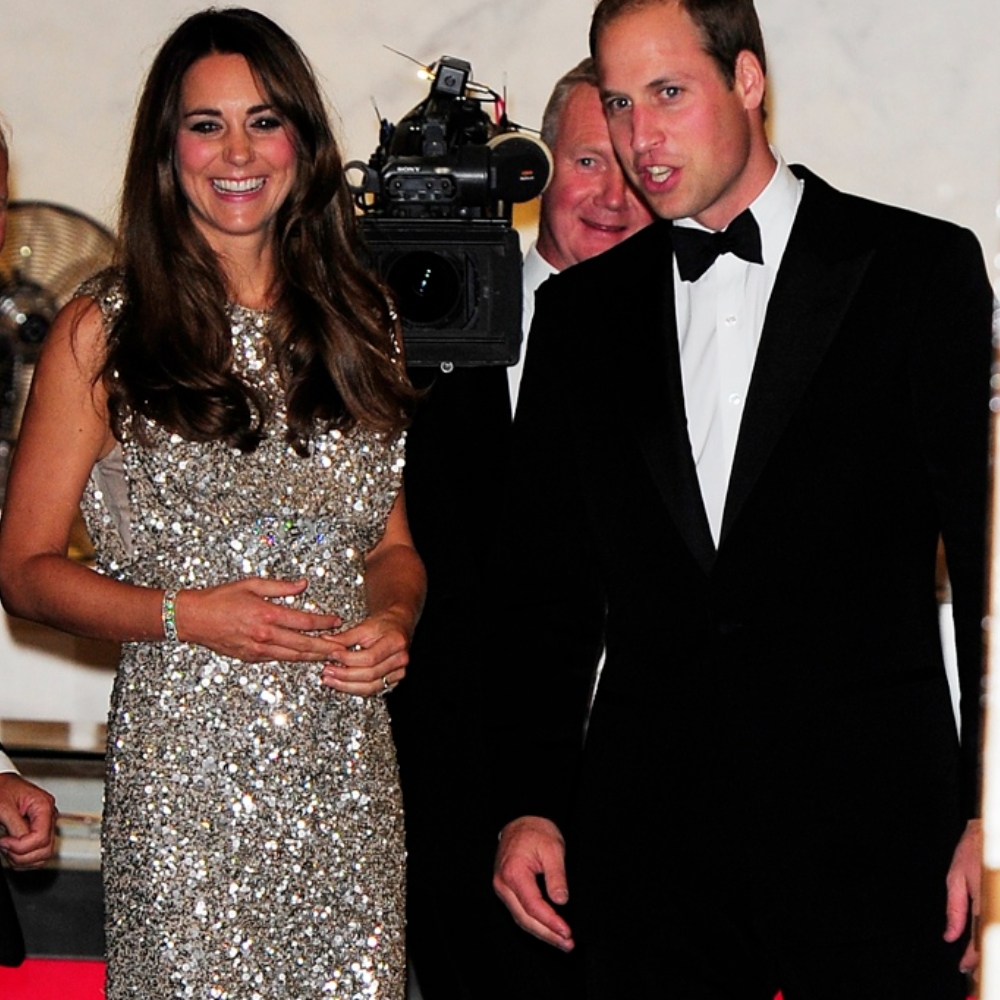 The Duchess of Cambridge wore her glittery Jimmy Choo Vamp court shoes — and of course, a beautiful set of jewelry that included matching diamond earrings and a bracelet.
Queen Elizabeth in Yellow
Have you ever noticed that Queen Elizabeth often, if not always, wears bright colors? Well, it's not just because she likes a pop of color (though she really does). You see, the Queen has to be seen when she's out and about, or what's the point in her being out at all? It's kind of a safety thing, too, so that she can always be spotted.
In this picture form 1976, the Queen wears a gorgeous yellow gown while on a state visit to Washington D.C.
Queen Elizabeth in Tulle
We just love these vintage pictures of royals wearing stunning, detailed ballgowns. This photograph is from 1952, and depicts a newly coronated Queen Elizabeth posing in a tulle gown with metallic lace embellishments. Of course, she's also wearing one of her crowns, and a collection of expensive jewels.
In general, Queen Elizabeth prefers wearing skirts and dresses to pants. Perhaps this isn't surprising considering her age, but it does impact royal dress codes. Duchesses Kate and Meghan follow suit by wearing mainly dresses to royal events.
Kate Middleton in Issa
When Kate Middleton appeared on the scene, fashion journalists were quick to come up with "The Kate Effect." This new term described the fact that everything the Duchess wore in public quickly sold out soon after.
After Kate wore this silk-jersey blue wrap dress to announce her engagement, British designer Issa sold out in 43 countries. In fact, Issa was massively overwhelmed with the demand, as it had been a niche brand until that point. Sadly, they closed due to the stress.
Princess Diana in Pink Silk
While Princess Diana liked to rock a shoulder pad and a shorter hem, she also looked simply divine in floaty, more traditionally feminine gowns. Here she is in 1983 while on an official visit to Australia. This pink, silk, full length dress went down very well in the media — and unsurprisingly, the Princess was declared "pretty in pink." Well, obviously!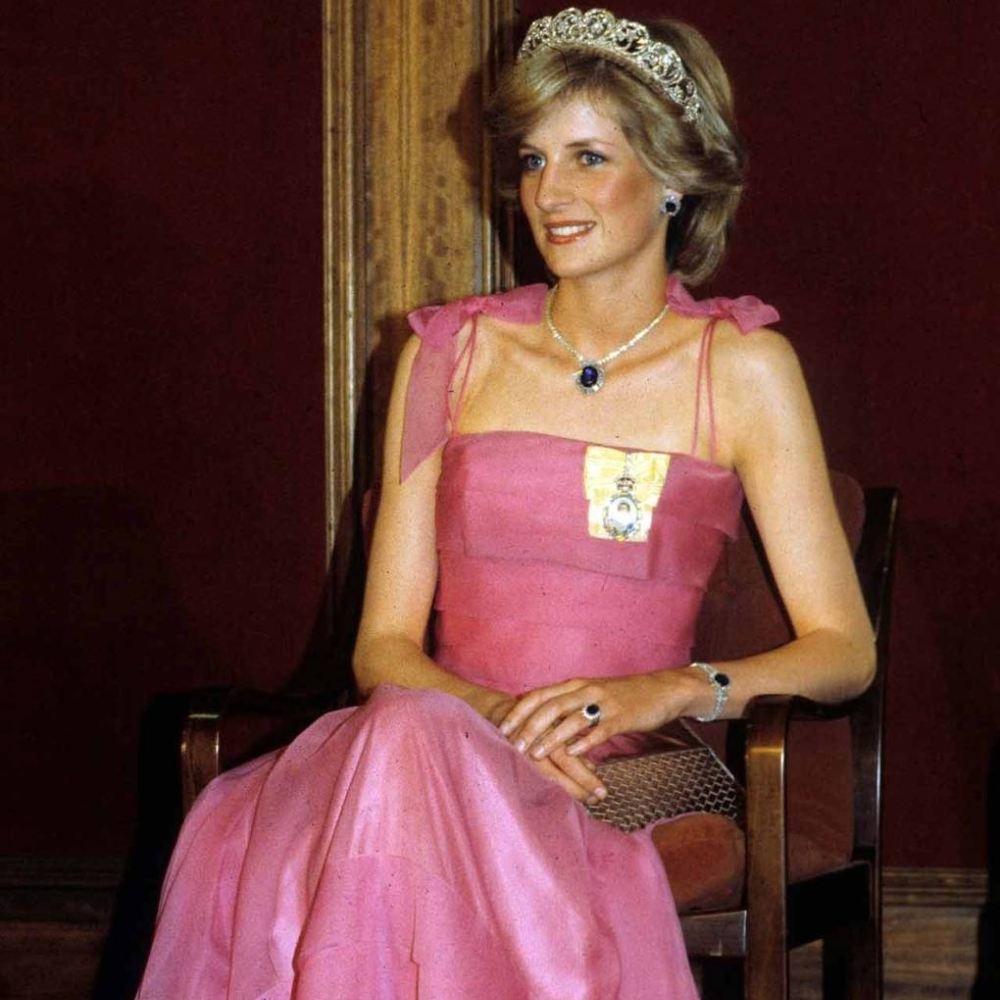 As was often the case, Diana accessorized this ensemble with her iconic sapphire ring, matching necklace, earrings, and bracelet.
Meghan Markle in Givenchy
The marvelous Mrs. Markle has sent the British press into a frenzy more than once, and this outfit caused its own media storm. Absurdly, in this picture at the 2018 Fashion Awards, Meghan is breaking royal protocol. You see, the Queen only likes neutral or subtle pink colored nail polish, and here, Meghan has a dark manicure. Imagine!
Critics were also irritated that Meghan was cradling her bump during this event, and throughout her pregnancy. Come on, guys — look at that one-shouldered Givenchy gown instead!
Princess Diana in Bruce Oldfield
British designer Bruce Oldfield helped turn Diana, Princess of Wales into "Dynasty Di," a fabulous 1980s fashion icon. Oldfield started life in an orphanage, and remembers dancing with Diana at a charity fashion show and ball for Barnardos — a British charity for vulnerable children.
For that event, in 1988, Diana wore this incredible silver pleated lame dress, and looked like a true Hollywood star. Oldfield remembers, "Everyone just wanted to get up and be close […] It didn't get better than that."
Princess Diana in Belville Sassoon
British fashion designer Belville Sassoon made over 70 gowns for Princess Diana. In fact, he remembers that "when she got engaged, her mother brought her in to us and asked us to make the going-away outfit." Belville has also made clothes for Princess Margaret, Jackie Kennedy, Audrey Hepburn, and Elizabeth Taylor.
Diana wore this blue lace ballgown in 1981 while attending an exhibition at the Victoria and Albert Museum. The next day, she announced her pregnancy with Prince William.
Kate Middleton in Alexander McQueen
Kate Middleton wore this elegant, long-sleeved, nude, Alexander McQueen dress to celebrate her sister's wedding in 2017. Kate has a close relationship with McQueen designer Sarah Burton, and had this dress custom-made for the occasion.
To complete her nude ensemble, Kate wore Gianvito Rossi suede pumps in "praline," a hat by Jane Taylor, and morganite and diamond drop earrings by Kiki McDonough. This stripped back color palette works well for a family member's wedding, as it means Kate isn't grabbing any attention.
Meghan Markle in Oscar de la Renta
The fashion blogs were all aflutter about this gorgeous dress worn by Meghan Markle while she visited Australia and New Zealand. The white tulle gown is part of Oscar de la Renta's Pre-Fall 2018 collection, and features tweed laser cut bird motifs. How thrilling!
Take note of Meghan's natural and simple hair and makeup in this picture. Royal women are expected to wear their hair "neat and natural," and to avoid statement makeup looks. It's all about the dress!
Princess Diana in Victor Edelstein
Diana once wore the "Elvis dress," and this Victor Edelstein creation was the "Travolta dress." Diana wore this off-the-shoulder, midnight blue, velvet dress while visiting the White House in 1985 to have dinner with President Ronald Reagan and his wife, Nancy. Amusingly, Diana asked if they would invite Grease star John Travolta, because she was a huge fan.
Diana twirled around the dancefloor with her childhood crush, creating an iconic pop-culture moment. The dress sold for $347,000 at auction.
Meghan Markle in Safiyya
While it's been said that Kate Middleton dresses similarly to her mother in law, Princess Diana, it's arguable that Meghan Markle is actually more like the fearless fashionista. While Kate does favor British designers and wear similar colors and shapes to Diana, Meghan is more of a risk-taker and not bothered by royal protocol.
Here, Markle looks absolutely stunning in a bright red Safiyya column dress with capelet shoulders. It's a bonus that she matches Prince Harry's military outfit.
Princess Diana in Christina Stambolian
Who could forget this iconic ensemble by Greek designer Christina Stambolian? The story goes that Diana intended to wear a Valentino dress to a Vanity Fair dinner at the Serpentine Gallery. Unfortunately, Valentino released a press release about the dress, so Diana changed her mind at the last minute, choosing Stambolian instead.
The dress came to be known as "the revenge dress." The Telegraph said, "This is a dress that shows Diana, Princess of Wales fully in command of a sense of her own value."
Princess Margaret in Pink Tulle
Here's yet another stunning birthday portrait of Princess Margaret. This picture was taken for the Princess's 19th birthday, and really captures her striking beauty. In the picture, Margaret wears a full-skirted tulle dress embroidered with blue butterflies. She accessorized it with several strings of pearls.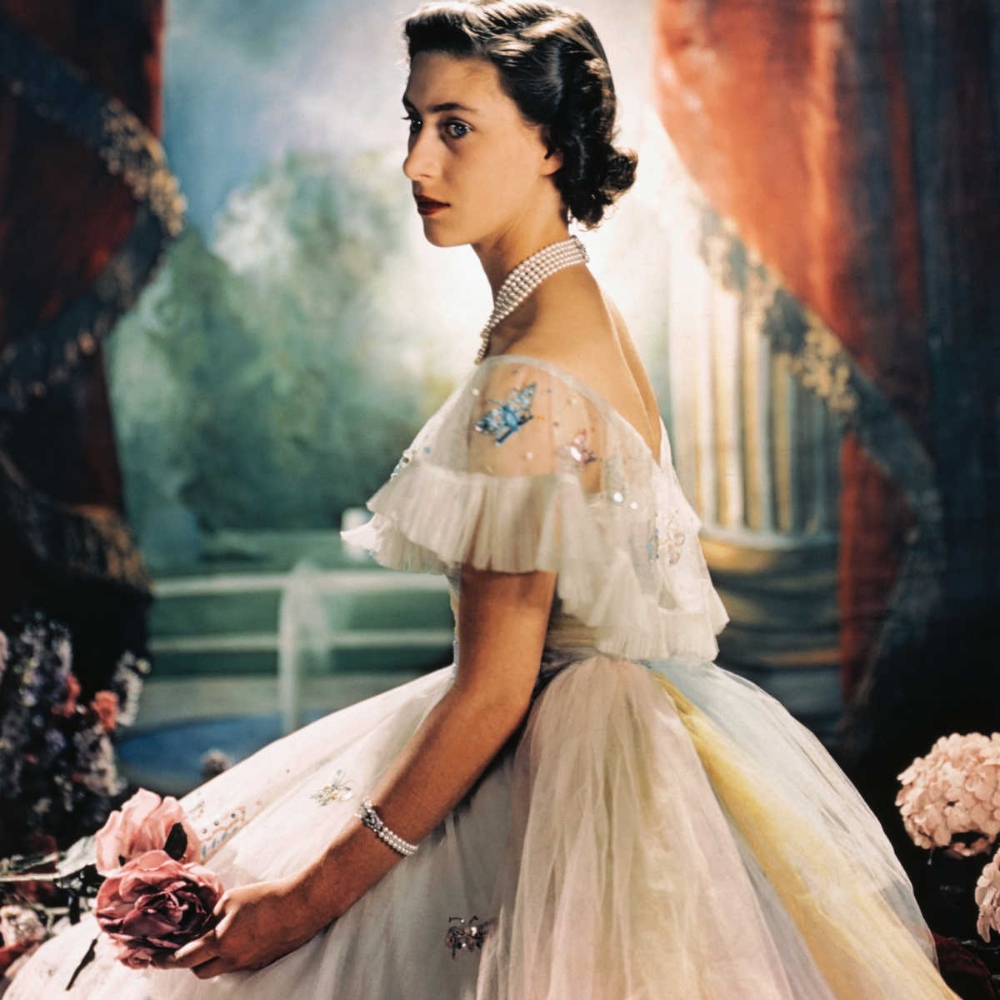 Apparently, The Crown chose to recreate this dress, and it was one of the most expensive costumes they made. Of course, they took home three Emmys for their incredible costumes, so we bet it was worth it!
Duchess Catherine in Jenny Packham
British royals are known for supporting British fashion designers, and Duchess Catherine of Cambridge is no different. The Duchess — or Catherine, or Kate — is a fan of Jenny Packham gowns, and regularly steps out in her creations. This is a blush metallic gown with elaborate detailing.
This was one of Kate's first appearances after her globally televised 2011 royal wedding. According to etiquette experts, when dressing, royals need to look "memorably good" as a way of complimenting those waiting for them.
Queen Elizabeth in Norman Hartnell
In this incredible photograph from 1961, we can see Queen Elizabeth II (known simply as, The Queen) with her husband, Prince Philip, American President John F. Kennedy, and his wife, Jackie Kennedy. Now, that's a lot of history in one photo!
For this special occasion, the Queen wore a blue Norman Hartnell ballgown with white gloves. The First Lady also wore blue with white gloves, although her dress was a straight cut, icy blue number. The Queen accessorized with plenty of sapphires.